i made zis tonight.
pioneer woman's the best lasagna ever.
heck. yes.
can i get an amen?
8:14pm
dinner is done. it went super well.
there are leftovers. they're going to make it into the breakfast files. :)
lasagna is better than pizza for breakfast. fact.
at the moment: i'm so. flippin'. tired.
but in probably 20 minutes or less i'll get a second wind that will last a couple hours.
how inconvenient is that? it doesn't encourage sleepy, go-to-bed-while-it's-before-midnight feelings.
i have no idea where to start with this day. i feel a good list coming on. ;)
1. church.
2. lunch.
3. bike-ride into town with rach and a photoshoot by a coca cola wall.
awesomeness
! i loved all the colors going on. [more on that some other time;]
4. floated over to
the pioneer woman
's site in need of inspiration for some dinner tonight.
and:
5. honed some skills in the kitchen. made lasagna. cleaned kitchen. lasagna: yum, yum, double yum.
6. sat down to dinner with the family. outside, the sun set gorgeously.
7. hilarious conversation with lyddie in the kitchen, about caramel creme ice cream and men and the characteristics looked for in such a species.
8. coffee brewed to offset the sweet, rich taste of caramel in our mouths.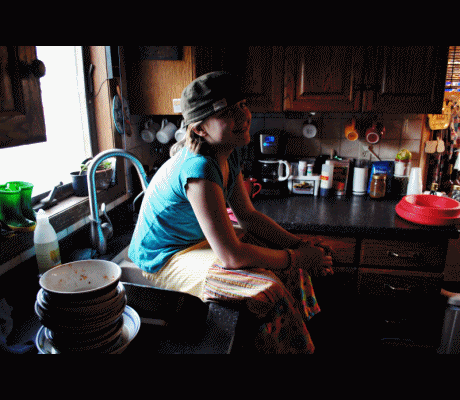 9. onset of sleepiness.
10. a surprise 9pm call from heather dear. ah, interesting stuff:)
<< my measly little pictures.
Recipe: The Best Lasagna Ever
Prep Time: 30 Minutes | Cook Time: 30 Minutes | Difficulty: Easy | Servings: 12
Print Recipe 3"x5" Cards 4"x6" Cards Full Page
Ingredients
* 1-½ pound Ground Beef
* 1 pound Hot Breakfast Sausage
* 2 cloves Garlic, Minced
* 2 cans (14.5 Ounce) Whole Tomatoes
* 2 cans (6 Ounce) Tomato Paste
* 2 Tablespoons Dried Parsley
* 2 Tablespoons Dried Basil
* 1 teaspoon Salt
* 3 cups Lowfat Cottage Cheese
* 2 whole Beaten Eggs
* ½ cups Grated (not Shredded) Parmesan Cheese
* 2 Tablespoons Dried Parsley
* 1 teaspoon Salt
* 1 pound Sliced Mozzarella Cheese
* 1 package (10 Ounce) Lasagna Noodles
* (add 1/2 Teaspoon Salt And 1 Tablespoon Olive Oil To Pasta Water)
Preparation Instructions
Bring a large pot of water to a boil.
Meanwhile, in a large skillet or saucepan, combine ground beef, sausage, and garlic. Cook over medium-high heat until browned. Drain half the fat; less if you're feeling naughty. Add tomatoes, tomato paste, 2 tablespoons parsley, basil and salt. After adding the tomatoes, the sauce mixture should simmer for 45 minutes while you are working on the other steps.
In a medium bowl, mix cottage cheese, beaten eggs, grated Parmesan, 2 more tablespoons parsley, and 1 more teaspoon salt. Stir together well. Set aside. Cook lasagna until "al dente" (not overly cooked).
To assemble:
Arrange 4 cooked lasagna noodles in the bottom of a baking pan, overlapping if necessary. Spoon half the cottage cheese mixture over the noodles. Spread evenly. Cover cottage cheese with a layer of mozzarella cheese. Spoon a little less than half the meat/sauce mixture over the top.
Repeat, ending with meat/sauce mixture. Sprinkle top generously with extra Parmesan.
Either freeze, refrigerate for up to two days, or bake immediately: 350-degree oven for 20 to 30 minutes, or until top is hot and bubbly.