i took these as i was reading some of this great article:
21 things you need to know about that misguided man we all have been hearing/reading about this weekend.
so yeah. that's what i look like when reading stuff about a wacko. at least i came away informed.
i love how "little ol' me" wrote that part:
i like my readers to be educated, so i'm telling you this.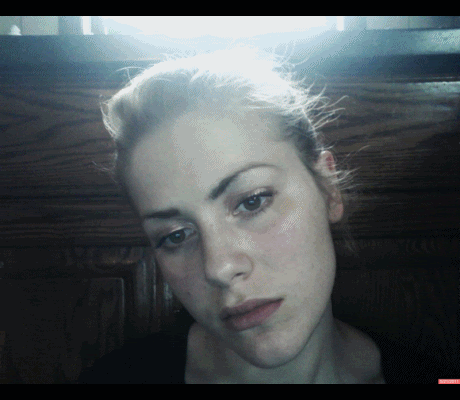 it rained tonight.
the kind you can hear.
not quite the kind you can smell, but i might be wrong, because it was around the time i took those pictures up there, and i was sitting on the ground in the kitchen, sitting against some cupboards....so i couldn't really smell anything coming in from the outdoors. not too focused. hah.
i love the foggy factor, in the distant fields. taken at church earlier, around noon before we went to see pirates 4. which, by the way, was better than 3, and...i have to say that 1 and 4 are my favorites. the middle ones are good. just not as good. :)
this was last night.
wait. i mean this morning. a.m. around 1....
me and my sister, rach, were up while i cleaned the kitchen, listening to good, dancy music...
yeah, we might've gotten carried away a few times.
like this: right before we quit and went to bed. we hadn't watched it in so long; since the first time i showed it to her. so....of course. yeah. refresher course on quoting the funky stuff she brings up all the time.
like the days rach walks by me and says canna have yo numba? incessantly. annoyingly. but always making me laugh.
and the newest quote she does? el oh el, smiley face. from megamind. ummm, yes.
siblings can be the best and the worst.
now we quote it together, since that's how we roll.
that's how we bond.
because God only knows how much we clash sometimes:P
by the way: i just want you all to know that this combo is awesome.
...what? eating basil leaves and "pizzeria" blend cheese at 1:26am isn't normal?
oh. hmm. well, if it helps any, it was only my first time. :] and it's amazing.
this news just in:
alyssa
, from the blog
bitty wings baby
, is hosting a series. it sounds pretty darn wonderful, so, starting monday, you should swing by there and see what's published! i'm in the line-up, as you can see, and i just wrote my post
tonight
, to-freaking-night, because . . . well, my right brain unorganized tendencies took over what with making food happen, anna coming home, art news, and the thoughts and tense edge-of-your-seat mindset i've got going once in a while about the birth i'm photographing any day now.
interesting news on that: they live almost 2 hours away. just a little over 1 1/2. so....i know this isn't their first so it's not going to be the longest, and all i can do is pray we get there at a good time to still document the moments leading up the actual wonderfulness.
so yeah.
dear God,
it would be just fine with me if you had her go into good, real labor around 10, have them call us around 11, right after i do my solo at church, and then i can get dressed down and hop in the car with mom to head to a house we've never been to and take pictures...all in a timely fashion.
thank You? :) :) :)
love, beka.
p.s. : as per
erika
's suggestion/request,here's a video....of the song i'm singing tomorrow.
ironically so, this is actually me singing. the little boys in the vid are danny and david cito. lyddie's the cinematographer. ;)
excuse my dorkiness.

especially the end paranoia.